Last updated: April 12, 2018
How-To: Luminous Golden Balayage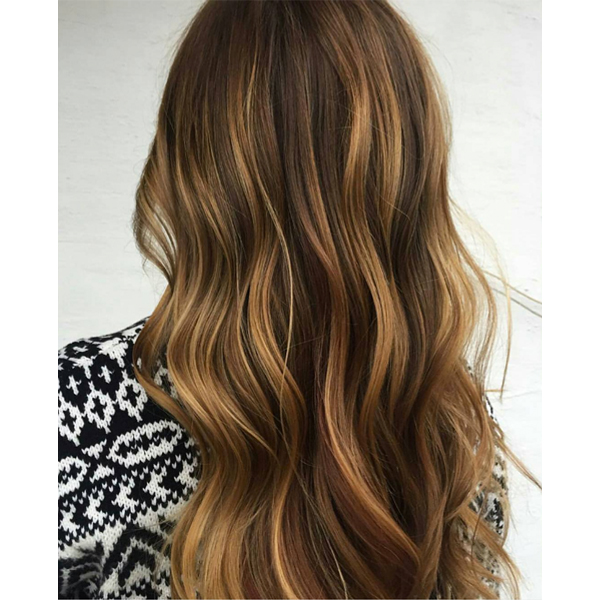 Formula A:

Color Touch 5/03 + 6/77 + Color Touch Emulsion 1.9%

Formula B:

Freelights + 40-volume Freelights Developer

Formula C:

6/47 + 6/75 + Color Touch Emulsion 4%

Formula D:

8/73 + Color Touch Emulsion 1.9%
#HAIRGOALS right here, guys. This gorgeous look combines beautiful balayage, perfect waves and an allover luminous glow. Danielle Donato (@sorrisohairsalon) of Erie, Penn. gave us the scoop on how she achieved this look!
Who Did It
Colorist:
Danielle Donato
COLOR FORMULAS
Formula A:

Color Touch 5/03 + 6/77 + Color Touch Emulsion 1.9%

Formula B:

Freelights + 40-volume Freelights Developer

Formula C:

6/47 + 6/75 + Color Touch Emulsion 4%

Formula D:

8/73 + Color Touch Emulsion 1.9%
FORMULA STEPS
1. At the base, apply Formula A and blend down to the midlengths.
2. Starting in the front, take 1-inch sections angled toward the face. Weave each section for a more textured look, then balayage with Formula B.
3. When you get to the back of the head, continue step 2, while adding in smaller balayage sections with Formula C.
4. Shampoo with Wella Oil Reflections Luminous Reveal Shampoo, then apply Formula D. Process for 5 minutes, then shampoo again and use Oil Reflections Luminous Instant Conditioner.
5. To style, apply EIMI Root Shoot at the roots for volume, then smooth Oil Reflections Luminous Smoothing Oil through the midlengths and ends. Blow-dry and curl as desired.
VIDEO