Last updated: October 27, 2022
Curly Copper Color Block
By

Sahrita Silva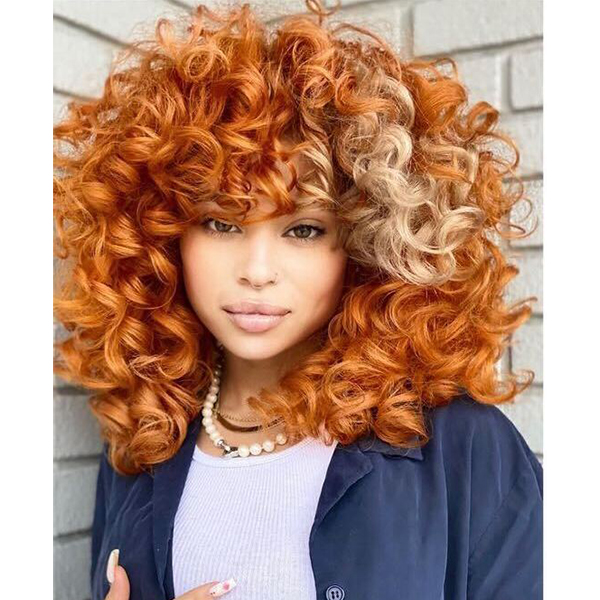 Formula A (lightener):

Schwarzkopf Professional® BLONDME® Bond Enforcing Premium 9+ Lightener + 20-volume developer (1:2)

Formula B (copper toner):

L'Oréal Professionnel DIA Richesse Demi-Permanent Creme Color 1.5 oz Fireglow 7CCC + 0.1 oz 6RC Garnet

Formula C (color-block toner):

Redken Shades EQ 9P + 9V (1:1) + Shades EQ Processing Solution
'Tis the Season for copper hair color! What if your client wants to pair it with a bold color block? That's exactly what 2022 #ONESHOT Natural Texture Winner Sahrita Silva's (@sahrita23) client requested, so we had to find out all the details. Keep reading to learn how Sahrita books, prices and creates this bold fall color.
Check out the before and after by Sahrita and Nubia:
Photo Credit: Instagram via @sahrita23 and @nubiarezo
Who is the ideal client for this look?
"Any client with a starting Level 4," says Sahrita. This transformation begins with a global bleach-out: A darker starting level would mean an extra lightening process (if the hair can handle it!).
What can clients expect? 
The entire transformation will take eight hours—not an easy task! That includes a full bleach-out, two different glazes to create the color block and a rëzocut by Nubia Rëzo (@nubiarezo). "The color alone is $550," says Sahrita, making the full appointment $800.
How can clients care for this look?
When it comes to at-home care, it's always best to use cool water when washing color-treated hair. This will increase the longevity of the color along with a color-safe shampoo! As far as maintenance goes, Sahrita recommends her clients visit the salon in six-to-eight weeks to upkeep this look.
Learn must-have tips on BTC University for…
Creating the Perfect Copper
Formulating Red & Ginger Hair Color 
Toning Techniques & MORE! Click here to join.
Products Used
COLOR FORMULAS
Formula A (lightener):

Schwarzkopf Professional® BLONDME® Bond Enforcing Premium 9+ Lightener + 20-volume developer (1:2)

Formula B (copper toner):

L'Oréal Professionnel DIA Richesse Demi-Permanent Creme Color 1.5 oz Fireglow 7CCC + 0.1 oz 6RC Garnet

Formula C (color-block toner):

Redken Shades EQ 9P + 9V (1:1) + Shades EQ Processing Solution
FORMULA STEPS
1. Start with a global bleach-out with Formula A, leaving out the roots. Process for one hour.
2. Lighten the roots with Formula A last. Lift to the desired level, rinse and wash.
3. Section off the color block and clip away. Apply Formula B all over the rest of the hair and process for 20 minutes.
4. Apply Formula C to the color-block section and process for 15 minutes.
5. After the color service, rinse, cut and style as desired. Sahrita tapped in Nubia Rëzo to give her client a custom rëzocut.
6. Finished look.
Photo Credit: Instagram via @nubiarezo