Last updated: December 14, 2022
Bright, Foiled Lived-In Blonde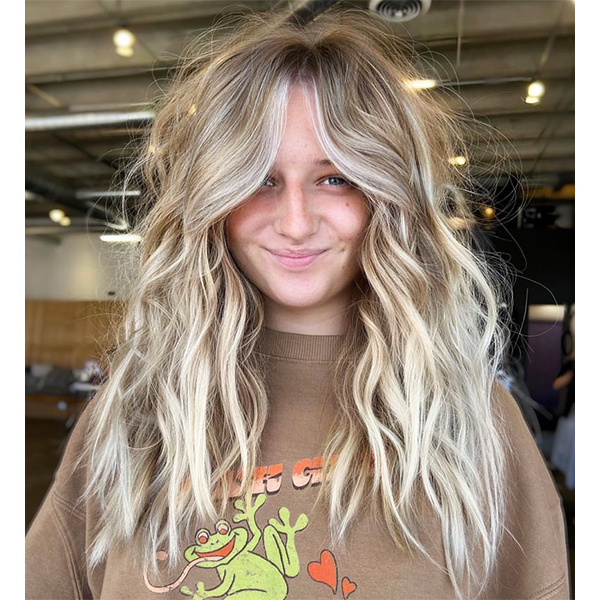 Formula A (roots):

Schwarzkopf Professional® 30g BLONDME® Bond Enforcing Premium Lightener 9+ + 20g BLONDME® Bond Enforcing Premium Clay Lightener 7+ + 90g BLONDME® Premium Developer 2% (7 Vol.) 

Formula B (mids-to-ends):

30g BLONDME® Bond Enforcing Premium Lightener 9+ + 20g BLONDME® Bond Enforcing Clay Lightener 7+ + 90g BLONDME® Premium Developer 6% (20 Vol.)

Formula C (shadow root):

Schwarzkopf Professional® CHROMA ID™ Bonding Color Mask 9-12 Light Grey 

Formula D (overall toner):

Schwarzkopf Professional® IGORA® VIBRANCE 9-1 + 8-11 + 9.5-19 + 2 parts 9.5-98 + 1 part 9-7
So, your high-maintenance blonde wants to transition to a lived-in look, but how? We reached out to Gray Mattes (@grayellen_hair) and got her pro tips (and formula secrets) for creating a blonde look that requires less maintenance but still brings the brightness.
Keep reading for her full formula breakdown, maintenance schedule and application tips!
1. Who is the ideal client for this look?
For clients who want to be super blonde while maintaining a forgiving grow-out. This is also perfect for routine blondes who want to transition into something bright but with less upkeep.
"The solid blonde ends paired with a money piece make the client feel very blonde, while the dimensional mids and ends provide a seamless grow-out," Gray explains.
2. What can clients expect from their appointment?
Gray advises setting aside 5 1/2 hours (including the haircut). Here's the game plan: Refresh prelightened pieces, foil the hairline, brighten up the mids and/or ends and add a shadow root for extra dimension.
3. Analyze your client's hair health during the consultation:
Before you reach for the foils, find out what's going on inside your client's hair—not just on the surface. A hair scan will help you better explain their current hair conditions (and identify any roadblocks), find out if their hair is ready—and set them up with a custom treatment plan.
A health scan for your client's hair?! Yes: Try the
Schwarzkopf Professional® SALONLAB® Smart Analyzer
. Here are some key benefits:
Create custom treatment plans with

Schwarzkopf Professional®

FIBRE CLINIX

®

Set goals and create understanding for clients wanting a big hair change (and hold clients accountable)
Track progress and share personalized info with clients about their own hair
Want to add the SALONLAB® Smart Analyzer to your own salon? Click here for more info!
Related: A Health Scan For Your Hair? Get Results In 3 Clicks!
Products Used
COLOR FORMULAS
Formula A (roots):

Schwarzkopf Professional® 30g BLONDME® Bond Enforcing Premium Lightener 9+ + 20g BLONDME® Bond Enforcing Premium Clay Lightener 7+ + 90g BLONDME® Premium Developer 2% (7 Vol.) 

Formula B (mids-to-ends):

30g BLONDME® Bond Enforcing Premium Lightener 9+ + 20g BLONDME® Bond Enforcing Clay Lightener 7+ + 90g BLONDME® Premium Developer 6% (20 Vol.)

Formula C (shadow root):

Schwarzkopf Professional® CHROMA ID™ Bonding Color Mask 9-12 Light Grey 

Formula D (overall toner):

Schwarzkopf Professional® IGORA® VIBRANCE 9-1 + 8-11 + 9.5-19 + 2 parts 9.5-98 + 1 part 9-7
FORMULA STEPS
1. Using Formula A, foil the money piece and face frame with back-to-back babylights. 
2. Finish the hairline with a teased slice to ensure blend.
3. Heavily foil the nape with Formula A using back-to-back babylights to ensure the entire perimeter is bright and connected. Pull hairline foils as they finish processing.
4. Foil the back of the head with Formula B in a brick-lay pattern. Add teased weaves through the interior to create bright pops of blonde.
5. Alternate traditional weaves and teased slices throughout the Mohawk section applying Formula B.
6. Apply Formula C to all of the remaining hair to create a lowlight. Process, then rinse.
7.  Apply Formula D globally at the bowl.
8. Use Formula C as a root shadow. Here's why: this will deposit an ashier tone to the root area while allowing those strategically-placed highlights to pop through!
9. Rinse and style.
10. Finished look.
Photo Credit: @grayellen_hair
Want to try CHROMA ID™ in the salon? Shop all the shades here.
Use This Cheat Sheet For A Maintenance Schedule:
Depending on how often your client wants to visit the salon or how blonde they like to feel, Gray recommends the following:
For clients that avoid warmth at ALL costs:
3-4 weeks: Toner refresh (icy tones fade FAST!)
Pro Tip: The longer the client waits, the more expensive their next visit will be to reestablish the look, says Gray. "However, I always encourage clients to choose what works for them," she explains.
For clients that like to be nice and bright near the roots:
4-8 weeks: Maintain brightness around the face with foils.
Pro Tip: Offer a mini highlight service between bigger appointments.
For clients who want less upkeep and enjoy the grow-out:
8-12 weeks: Full follow-up foiling appointment.
Pro Tip: Consider utilizing the client's natural color in their regrowth to create dimension instead of adding lowlights. Here's why: "Lowlights will fade warm and this look relies heavily on avoiding super warm tones," explains Gray.