Last updated: March 31, 2023
5 Tips To Formulate The Perfect Rich Copper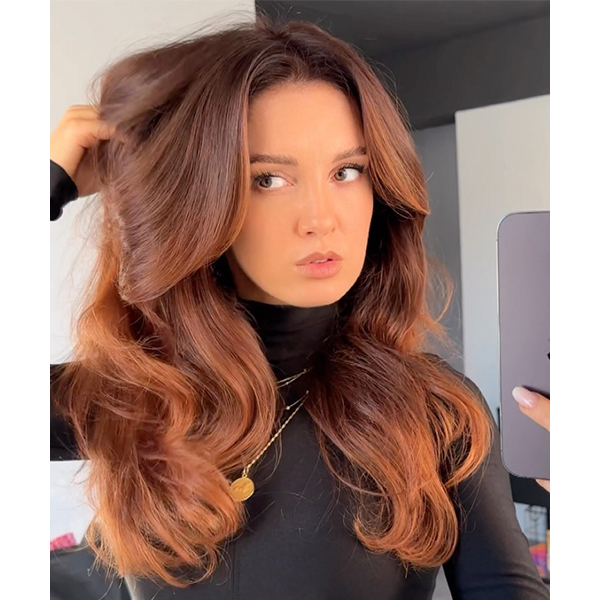 Formula A (lightener)

Moroccanoil® Blonde Voyage Clay Lightener + 20-volume developer (1:1.5)

Formula B (global toner)

Moroccanoil® Color Calypso Demi-Permanent 7/4 + 7/46 + 9/34 + developer
How To Create Mistake-Free Coppers On Every Client
Disclaimer: You'll want to screenshot these pro tips to save for the backbar. Copper is one of this year's biggest color trends—but we know formulation can be tricky and one wrong move could result in browning out, hot reds and fast fading. That's why we're sharing pro tips from top color experts, so you can formulate with ease. 
International BTC influencers Oana Ciofu (@hair_by_oana) and Zix Hodzic (@the_zix) spent Cosmoprof Bologna 2023 with the Moroccanoil® team creating luxe transformations on their model clients before taking the stage to educate in the booth. Keep scrolling for the color formulas and secrets we learned over the education-packed weekend in Italy. 
1. Formulation Secrets Every Colorist Should Know 
We've all been there. You mix at the color bar with confidence and go through a complete application—only to rinse at the bowl and the results are too dark or hot. The culprit? The vibrancy of the color doesn't solely depend on the shades you choose, but the natural level of your client's hair, says Oana. 
Try these formulation pro tips:
Add Gold (Level 8 or above) to create more depth in lighter copper shades.

On darker levels, adding Gold will create more light/brightness.

For a muted copper, add a small amount of Pearl into the formula. 

Consider your lift! The dreaded "brown-out" we see with coppers is often a result of not getting enough lift. 

To prevent reds from going too hot, add a cool tone into the root formula and keep the mids to ends two levels higher. 
2. How To Transition From A Color Correction to Rich Copper 
All transformations are rewarding, but when a client comes in with a challenging color correction—the satisfaction of transitioning their color into a rich blend is priceless. Zix's Moroccanoil® stage model at Cosmoprof Bologna is the perfect example. Follow his process from start to finish and get the color formulas below. 
Client Hair History: Zix's client had 3 to 4 colors existing in her canvas because she had previously bleached her hair frequently, then decided to go darker with permanent color. This transformation compromised her hair and shifted her natural base, so after a few months, she was left with reddish tones and lighter ends. 
The Goal: Blend the base to blur the harsh line between the natural base and lengths. 
How-To Steps
Find the formulas below by tapping the beaker!
Section the hair into three (two sections in the front and one in the back.)

Starting in the back with small sections, use the AirTouch technique and apply Formula A through the darker areas and Formula B through lighter areas. Lift to a clear Level 8/9.
Pro Tip: By using two formulas (powder and clay), Zix was able to lift out the permanent color and the regrowth at the same time without compromising the hair. 
Rinse and apply Moroccanoil® Intense Hydrating Mask to fill the open cuticle with hydration. Rinse again.

Apply Formula C to the roots, dragging down 1.5 cm past the previous regrowth. 

Process for 5 minutes, then apply Formula D through the lengths. Process for 10 minutes all together. 

Rinse and wash with

Moroccanoil® Moisture Repair Shampoo and

Moroccanoil

® Intense Hydrating Mask.

Before curling and styling, apply

Moroccanoil® All In One Leave-In Conditioner and Moroccanoil® Perfect Defense to protect the freshly colored hair. 
Tap the beaker for the color formulas.

Formula A (powder lightener)

Moroccanoil® Blonde Voyage Powder Lightener + 20-volume developer

Formula B (clay lightener)

Moroccanoil® Blonde Voyage Clay Lightener + 20-volume developer 

Formula C (roots)

Moroccanoil® Color Calypso Demi-Permanent 4N + 10-volume developer

Formula D (toner)

Moroccanoil® Color Calypso Demi-Permanent 7C + 10BV + 10-volume developer
Watch the transformation below—or click here.
 

 

View this post on Instagram

 
3. Get Oana's Color Formulas For Bold Copper Dimension 
When we saw Oana post this transformation of herself on Instagram, we just had to share the color formulas. Get the how-to steps below and tap the beaker for the color formulas to achieve a multi-tonal dark copper on curls. 
Oana uses organic sectioning and application on her curls. For each section, use a backcombing technique and very gently push away all the baby hairs before applying Formula A. 

Use a brush to apply the formula and blend with your hand for a softer result. Continue until every section is complete. Process for 60 minutes, rinse and wash. 

Apply Formula B all over. Process for 10 to 15 minutes, rinse and wash.  
Tap the beaker for the color formulas.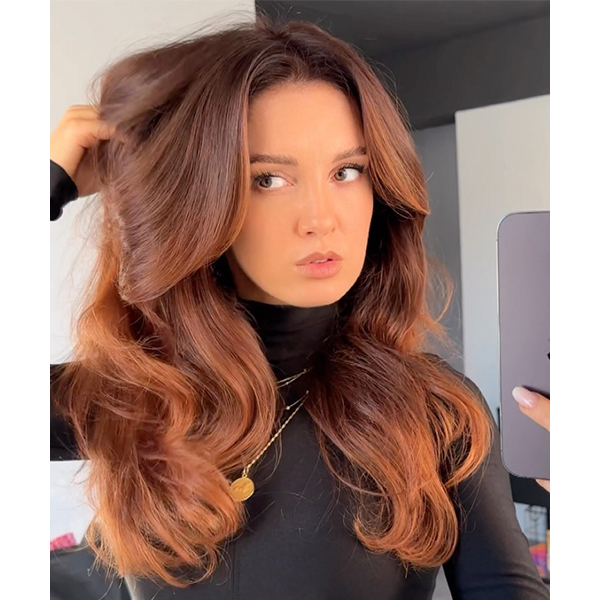 Formula A (lightener)

Moroccanoil® Blonde Voyage Clay Lightener + 20-volume developer (1:1.5)

Formula B (global toner)

Moroccanoil® Color Calypso Demi-Permanent 7/4 + 7/46 + 9/34 + developer
Watch Oana's process from start to finish below—or click here.
 

 

View this post on Instagram

 
4. How To Paint A Money Piece On Coppers & Reds 
First and foremost, Oana says to consider your client's skin undertone when formulating for a face-framing money piece with red and copper tones. Her best application secret? "I always start lightening the money piece because I want it to be the lightest and brightest," Oana says.
If you are applying a root color first and after continuing with the money piece, make sure the root formula doesn't touch the clay lightener, she adds. This will prevent creating an unwanted third color. 
5. Fast Fading? How To Maintain Copper Tones
"When it comes to topping up [copper] color, use the Moroccanoil® Color Depositing Mask at home to refresh the vibrancy and for deep conditioning," says Oana. Maintenance is KEY, especially with tones like red and copper that fade more quickly. 
Try Oana's custom mix: 
Moroccanoil® Color Depositing Mask Copper + Rosé Gold + Champagne
Pro Tip: Recommend to your clients to use styling tools as little as possible. Encourage them to swap out their normal washing system with one that focuses on color protection, like Moroccanoil®'s Color Care Shampoo and Conditioner. 
Get a backstage pass to Cosmoprof Bologna with Moroccanoil® below—or click here.
 

 

View this post on Instagram