Last updated: December 08, 2021
5 Placement Tips For Creating Depth And Dimension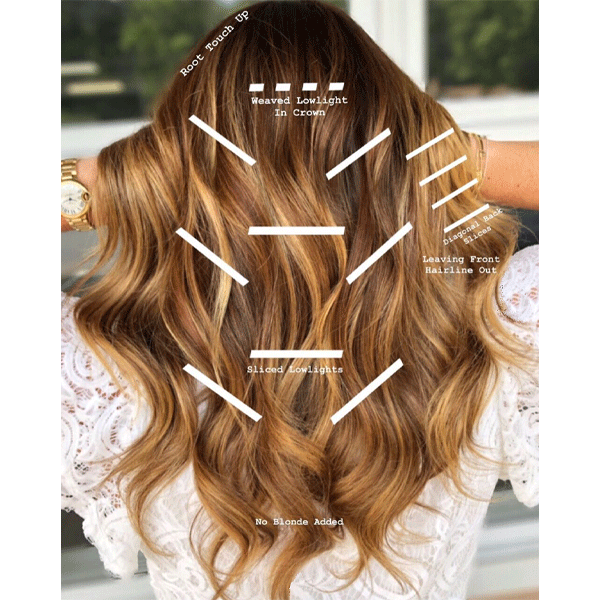 Color Placement Road Map: 5 Tips For Creating Dimension and Depth!
What's the secret to achieving depth, dimension and a seamless blend? Just like Hollywood, it's all about LOCATION, LOCATION, LOCATION! Having the proper placement is key for achieving: a bright money piece, a blended back hairline, a dimensional lowlight—pretty much ANYTHING! Because seeing is believing, we took some placement roadmaps from some of our BTC babes on Instagram and we even snagged a tip from each. Scroll down for some serious diagram realness!
1. A Partial Is 

Plenty!
Takeaway Tip: When trying to maintain lightness a partial highlight goes a long way, suggests San Diego stylist Carly Zanoni or @the.blonde.chronicles on Insta! Don't over think it, Carly explains, embrace all of the dimension and only brighten what the client can see when they look in the mirror (around the face, on the top and where they part their hair).
2. Use This Power Combo To Avoid Overfoiling
Takeaway Tip: To create natural dimension in the back, BTC Team Member @hairbychrissydanielle, leaves out triangular-shaped sections under her teasylights. The pockets create natural dimension, Christina explains and helps alleviate foiling for hours! 
3. Use Double Placement For Depth & Dimension 
Takeaway Tip: Give brunettes the depth they desire with this tip from Farhana Premji (@xo.farhana.balayage). Create high contrast and dimension by placing a weave directly above a slice. "I love this technique for my brunettes!" Farhana explains. This will give pops of brightness while still maintaining a seamless blend.
4. Use A Golden Glaze To Add Depth
Takeaway Tip: If super light clients want to add a little bit of depth into their blonde,Jessica Scott aka @jessicascotthair suggests going in with a lowlight, root smudge and a golden glaze and ZERO LIGHTENER. 
5. Use The Client's Natural Hair to Create Dimension
Takeaway Tip: @samanthasbeautyconfessions suggests using the client's natural hue to create dimension. To avoid over foiling and create natural depth, she places teasylights throughout the back leaving plenty of natural hair in between foils.