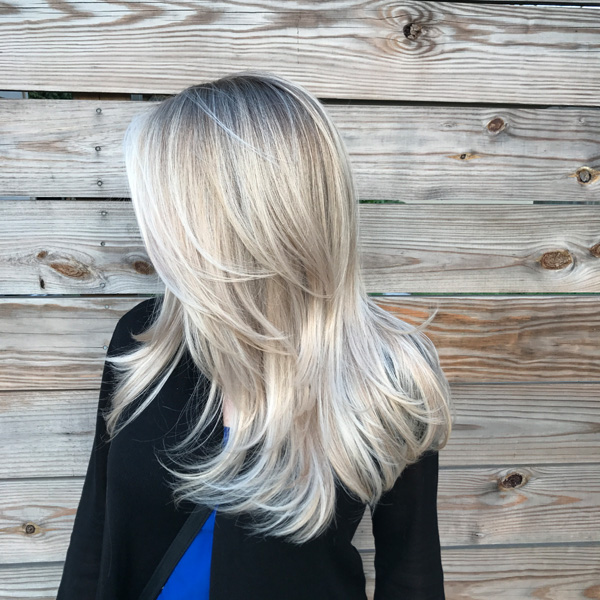 Natural Level:

7

Formula A:

Paul Mitchell SynchroLift Lightener + 30-volume developer

Formula B:

Redken Shades EQ 1.5 oz. 9V + 0.5 oz. 9T + 1 oz. Clear + 3 oz. Processing Liquid
If you're loving all things platinum as much as we are, then you gotta check out this icy platinum how-to from Liz Haven O'Neill (@lizhaven), owner of Kaleido Hair Artistry in Houston. From how she sections the hair to her go-to way of creating volume, it's all below in the steps. Check it out!
Want to be featured? Tag your pics to #behindthechair!
Total time: 4 hours
Pricing
Full Balayage: $190+
Toner: $40+
Haircut: $89+
Total: $319+
COLOR FORMULAS
Natural Level:

7

Formula A:

Paul Mitchell SynchroLift Lightener + 30-volume developer

Formula B:

Redken Shades EQ 1.5 oz. 9V + 0.5 oz. 9T + 1 oz. Clear + 3 oz. Processing Liquid
HOW-TO STEPS
1

Find her natural part. Where the natural part meets at the apex, create a section from the tip of one ear to the other. This should create two front sections.

2

Make a diagonal back parting from where the parietal ridge meets the front section to just below the occipital bone. Mirror it on the other side. This should create a triangle in the crown area. 

3

After sectioning off the triangle, there will be two remaining sections located at the mastoids, which sit right behind the ears. These two sections will be your starting place. 

4

Balayage with Formula A and work your way through each section using diagonal subpartings. When you reach the last two sections (the front hairline sections), continue with Formula A using a combination of babylights and balayage. 

5

Process for about 30 to 45 minutes without heat. Then, shampoo with Sebastian Professional Penetraitt Shampoo.

6

On towel-dried hair, tone her at the bowl with Formula B and process for 20 minutes. 

7

Shampoo and condition with Sebastian Penetraitt Shampoo and Conditioner.

8

For the cut, create a blunt square perimeter. For the interior, use a "short to long" layering technique achieved with the deep point-cutting method.

9

Dry her hair, then customize your detail cutting to ensure the cut works for her. "One method I used to achieve this result is to remove weight in the crown area with a channel-cutting approach using texturizing shears," shares Liz.

Natural Level:

7

Formula A:

Paul Mitchell SynchroLift Lightener + 30-volume developer

Formula B:

Redken Shades EQ 1.5 oz. 9V + 0.5 oz. 9T + 1 oz. Clear + 3 oz. Processing Liquid

10

For the style, create volume by doing what Liz refers to as a "Pageant Blowout" or "Blowout Set". Then, apply Goldwell Style Sign Double Boost Root Lift Spray to the root area and Kenra Professional Platinum Blow-Dry Spray on her midlengths and ends. Let the hair cool and style as desired. 

Natural Level:

7

Formula A:

Paul Mitchell SynchroLift Lightener + 30-volume developer

Formula B:

Redken Shades EQ 1.5 oz. 9V + 0.5 oz. 9T + 1 oz. Clear + 3 oz. Processing Liquid

Natural Level:

7

Formula A:

Paul Mitchell SynchroLift Lightener + 30-volume developer

Formula B:

Redken Shades EQ 1.5 oz. 9V + 0.5 oz. 9T + 1 oz. Clear + 3 oz. Processing Liquid

12

Finished look—alternate view