Last updated: November 07, 2018
High-Contrast Warm Blonde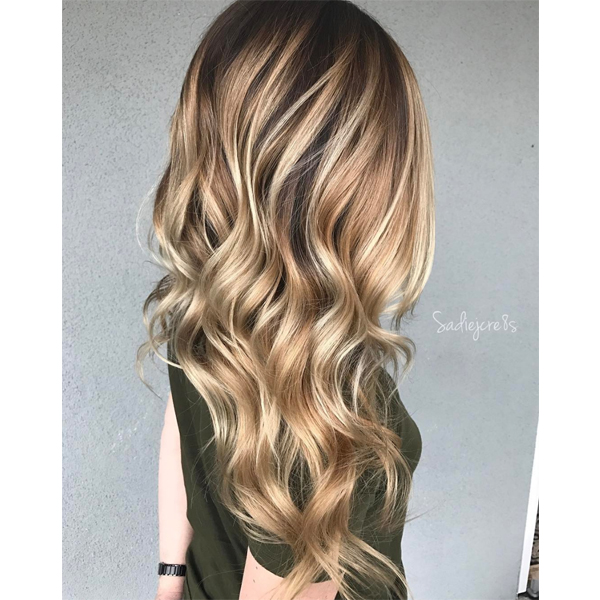 Natural Level:

5 with a previous deep gold ombré

Formula A:

Redken Shades EQ ½ oz. 6T + ½ oz. 6N + ½ oz. 6GI + ½ oz. 4NB + Shades EQ Processing Solution

Formula B:

Schwarzkopf Professional IGORA ROYAL 30g 12.11 + 10g 0-11 + 20-volume developer + ¼ oz. b3 Brazilian Bond Builder

Formula C:

Schwarzkopf Professional IGORA ROYAL HIGHLIFTS 10-21 + 20-volume developer + b3 Brazilian Bond Builder
BTC #ONESHOT Hair Award finalist Sadie Gray (@sadiejcre8s) is a master at adding depth, dimension and contrast to any head of hair she touches. Just look at one of her most recent creations—a warm blonde with a deep shadow root, accented perfectly by long layers and soft curls. Sadie is always down to share her color formula and how-to, so you can see how she got the look below!
Want to be featured? Tag your pics to #behindthechair!
For this particular client, Sadie started by clarifying her client's hair with Malibu C Un-Do-Goo Shampoo and a Malibu C Crystal Gel Treatment, letting her client process under the dryer for 45 minutes. "I had to do some serious clarifying because she has hard water," says Sadie. She then sprayed her wet hair with MoringapleX® Pre-Style Leave-In Spray for brush-ability and to equalize porosity and blow-dried.
Total chair time: about 6 hours
Pricing
Color melt: $195
Cut: $40
Total: $235
Products Used
COLOR FORMULAS
Natural Level:

5 with a previous deep gold ombré

Formula A:

Redken Shades EQ ½ oz. 6T + ½ oz. 6N + ½ oz. 6GI + ½ oz. 4NB + Shades EQ Processing Solution

Formula B:

Schwarzkopf Professional IGORA ROYAL 30g 12.11 + 10g 0-11 + 20-volume developer + ¼ oz. b3 Brazilian Bond Builder

Formula C:

Schwarzkopf Professional IGORA ROYAL HIGHLIFTS 10-21 + 20-volume developer + b3 Brazilian Bond Builder
FORMULA STEPS
1. On dry hair, apply Formula A diagonally back at the roots and melt it down into zone 2.
2. Using four-corner sectioning and a diagonal back parting, apply Formula B to zone 2, working from the bottom up and melting it into Formula A.
3. Apply Formula C using the same sectioning, again working from bottom to top and melting into Formula B. Sadie used this formula to neutralize and tone any remaining rusty-colored dark spots. 
Pro Tip: To ensure a seamless melt from dark to light, feather the lighter color on the surface into the darker color, then bring it down and begin to saturate underneath the section, says Sadie. Next, use your pointer and middle fingers in a downward motion to blend the feathering into the saturated sections.
4. Process for 30 minutes, and rinse with warm water. Apply a b3 Demi Permanent Conditioner Treatment, cap under the dryer for 20 minutes and rinse with cool water.
5. Apply 1½ pumps of Saints & Sinners Velvet Divine Styling Potion throughout damp hair, and blow-dry using a round brush (Sadie used an Olivia Garden Extra-Long Barrel Ceramic Thermal Round Brush).
6. Curl the hair using a Bio Ionic® 1.25-inch Eternity Wand Pro Styling Wand and Living Proof Flex Shaping Hairspray. Use your fingers to separate.