8 Men's Cutting Tips You Need Right Now

There's no time like RIGHT NOW to step up your men's cutting game. Seriously, what are you waiting for? And there's nobody who knows men's grooming better than top barbers (and BFFS!) Mark Bustos and Matty Conrad, so we invited them onstage at BTC "On Tour" in Los Angeles to share some of their hottest tips and techniques! Not only did they deliver education you can't find anywhere else, but Matty also announced the launch of VICTORY BRAND—a trio of styling products that will help you kill it behind the chair (get your Field Kit here!).
Before the duo hit the BTC stage, we hung out with the guys at The Sugar Skulls Loft in Downtown LA to get some exclusive tips for the men in your chair. Check them all out below!
Want more Mark & Matty?
Check out these educational videos at BTC University!

Yes, Matty's new Pomade is actually purple—for toning
your bleached-out clients, of course.

Matty's styling trio indludes Pomade, Claymore and Super-Dry!

Check out more pics from Mark & Matty's 
men's grooming class on Facebook!

1. The Anchor Trick
"When you're dealing with a client whose ear doesn't fold easily, use your finger as an anchor—both holding the ear down and guiding your clippers to work close," shares Mark.
2. Pay Attention To Part Lines
When creating a contour cut, you want to emphasize the natural square shape of a man's hairline. You should always place your parting line at the outside of arch of the eyebrow, right at the corner of the head. This is different than your female clients who will often part their above the center of the eye, creating a rounded shape on the outside.
3. When In Doubt, Brush It Out

When you're creating fades, finish by brushing through the hair with a flat brush. This will help you smooth everything out and spot any imperfections. The natural, dense bristles will easily grip the hair and help to move it around, opposed to longer, nylon bristles that make channels throughout. "It's also a really great way to finish for a photoshoot because it smooths out the hair," shares Matty. "It's like Photoshop with a brush."
 4. Erase With Your Guard
"You can use a guard like you'd use an eraser," shares Matty. To do this, you should rock the blade in little motions, blending and erasing lines. If you avoid bigger motions and work upwards, you will easily blend your cut into the longer lengths above.
5. Bleached Perspective
Men's color is having a moment. When your client comes in with grown-out roots and bleached hair, use it to your advantage. Use it as a reference and this will help you control the weight line and blend to avoid any hard lines in the hair. The difference in color will help you indicate where your cut is uneven.
6. Be Square
"To create straight lines, always point your fingers straight to the ceiling as you cut in order to keep your shapes as square as possible, while cutting in the inside of your hand," shares Mark. "Your hands don't naturally bend to follow the round of the head, so this will guarantee nice, straight lines."
 7. Control Your Tension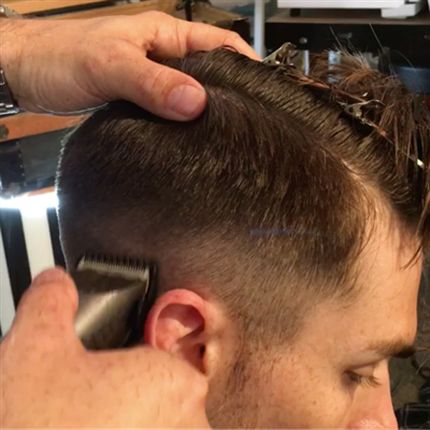 You can't avoid placing your hands on your guy's head as you cut, but be careful to not apply too much tension to his skin. Pulling the skin in any direction moves the hair from where it's going to actually sit, and your end result will look misshapen.
8. Skills Are The Best Tools
While some stylists are stuck in the mindset that choosing to work with clippers over shears, or vice versa, determines the worth of their haircuts, Mark strongly disagrees. "The tools you use don't determine the quality of your work," shares Mark. "Whether you're cutting with clippers or scissors, your client is paying for the way you use those tools to achieve a finished look and overall experience."
The barber bros took the BTC stage in matching T-rex costumes!