Last updated: December 05, 2019
4 Foil Tricks & Toning Timesavers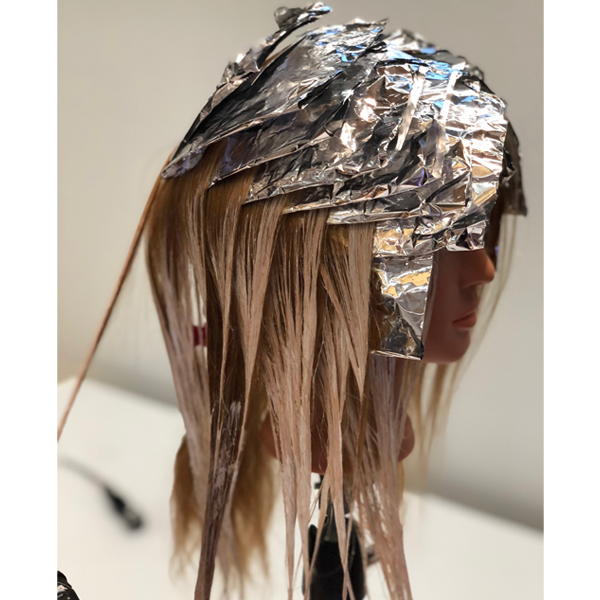 Hair Paint & Toner: 4 Tips That Will Help You Pick Up The Pace
Foils, balayage, toning, gray coverage, REPEAT—as colorists, that's how we spend most of our days behind the chair. That's why we're sharing four tips that will help you pick up the pace: how to prevent foils from slipping, speed up gray coverage, pre-tone for pastels and a balayage refresh technique! Keep scrollin' for these salon-friendly timesavers from Joico Educator Melissa Duguay (@melzduguay).
1. How To Prevent Foils From Slipping
Slipping foils = a hot mess, and a LOT of wasted time, so rethink the way you learned how to foil in beauty school with these quick tips:
Foil Folding Trick: Fold the top of the foil OVER the rat tail comb and AWAY from you, not under and toward you. This way, if the foil starts to slip, you can quickly adjust/push up on the tucked foil in the back to secure it.
Mixing Ratios Matter: For foil work, Melissa always mixes Joico Blonde Life Powder Lightener and Lumishine developer 1:1. This ratio will create a thicker yet easy-to-glide consistency that won't slip out of the foils.
Prevent foils from slipping LIKE THAT 😍
2. Gray Coverage: Root Touch-Up & Foils
Your balayage client wants a shadow blonde but needs gray coverage, now what? Try this fast, wet-on-wet application to pick up the pace.
Apply Joico's new plumping LumiShine YouthLock to the roots FIRST (it's collagen-infused to help stubborn grays feel softer and shinier.)

Then, apply the foils on wet hair while the roots process.

Here's the KEY: If you want a shadow effect, don't apply the lightener all the way up to the root—foil lower to leave some regrowth.
3. Pre-Toning For Pastels
Creating on-trend pastel pinks and icy lavenders? Pre-toning is a MUST. Melissa recommends lifting to a Level 8 (at least), then pre-toning to remove underlying pigment for an even, neutral/ashy canvas.
But, avoid over-toning otherwise the results will be too dark and the pastel won't show. Melissa applies Blonde Life Quick Tone Liqui-Crème Toner—they only need 5 minutes to tone at the bowl. Here's how she formulates: Pre-tone with Violet and always add Clear on Level 10s.
4. Foil & Paint: 30-Minute Balayage Refresh
For those clients who want a total makeover but they've only booked out a partial…Melissa demoed Larisa Love's "pick-me-up" foil and paint technique that's perfect for a 30-minute balayage refresh.
Why we love it? It creates high-impact brightness where it counts, and a seamless blend throughout. Plus, each foiled section does the same amount of work as TWO foils in one—watch Melissa demo the face-framing foil technique below, then get a full how-to!
Pick-Me-Up Technique: Tap For The Entire How-To From @larisadoll!