Last updated: November 16, 2018
"Level 11" Platinum
By

David Jonathan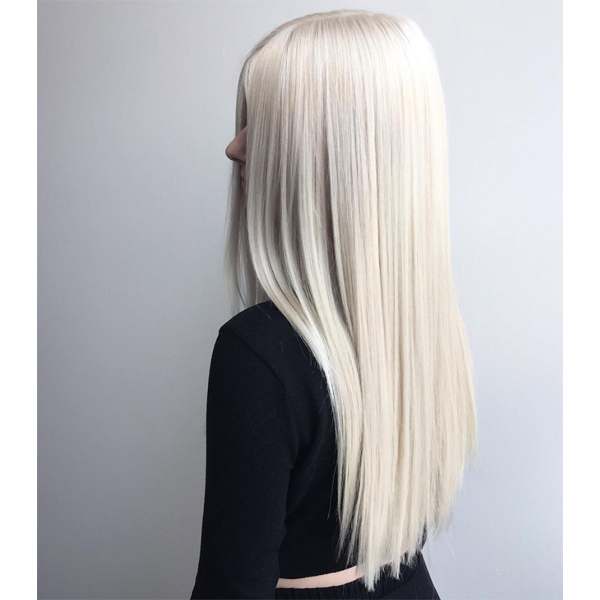 Natural/Starting Level:

7

Formula A:

X.DREAM Highlifting Powder Plus + 20-volume developer + 1/32 oz. Olaplex No.1

Formula B (toner):

11N/11NA + PQ 17 + Tone Lotion (1:1:2) + 1/32 oz. Olaplex No.1
At BTC, we believe you can never have too much of a good thing. Case in point—we are ALWAYS on the lookout for icy, platinum blonde creations, like this one from David Jonathan (@goddamneddavid), stylist and owner for David Jonathan Hair at Citizen Salon Studios in Calgary, AB, Canada. David's stunning, seamless blonde is getting tons of attention, so we reached out for his formula and how-to. Here's how he took his Level 7 client to a Level 10 (and beyond!).
Want to be featured? Tag your pics to #behindthechair!
Total chair time: 3 hours
Pricing: $300 for color and cut
COLOR FORMULAS
Natural/Starting Level:

7

Formula A:

X.DREAM Highlifting Powder Plus + 20-volume developer + 1/32 oz. Olaplex No.1

Formula B (toner):

11N/11NA + PQ 17 + Tone Lotion (1:1:2) + 1/32 oz. Olaplex No.1
FORMULA STEPS
1. Apply Formula A to the entire head and process for 30 minutes with no heat. "Heat isn't always necessarily your friend," says David. "But making sure the lightener is wet will always help you out!" After 30 minutes, David immediately reapplied Formula A to ensure saturation to the entire head. Process again with no heat for 30 minutes before rinsing.
2. Tone using Formula B, processing for 15 to 20 minutes.
3. Shampoo using La Biosthétique Colour System Cool Blonde Shampoo, then apply La Biosthétique Cheveux Long Hydrating Spa Fluid as a leave-in conditioner. Style with La Biosthétique Cheveux Long Luxury Spa Oil.