Last updated: December 28, 2017
How-To: Deep Purple Root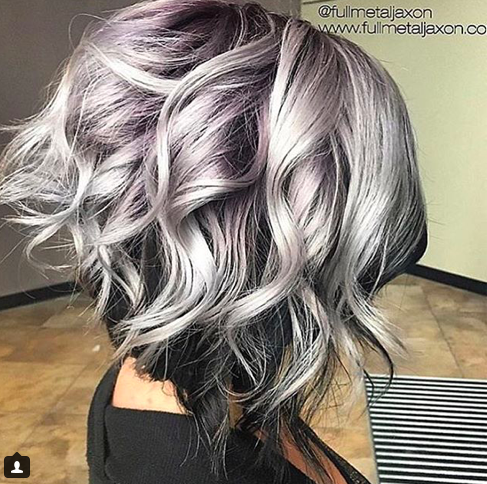 Starting Level:

The client was previously prelightened and returned with 1 ½-inch new growth and a panel faded to a Level 4. Her natural hair is a Level 6.

Formula A:

Keune Magic Blonde + 25-volume developer

Formula B:

1 oz. Kenra 4A + 9-volume developer

Formula C:

2 oz. Kenra 7VM + 1 dot Red Booster + 2 dots Blue Booster + 9-volume developer

Formula D:

1 oz. Kenra 8VM + Kenra 1 oz. 10SM + 9-volume developer
This steely, smoky pastel silver with a deep purple shadow root is insane! We love it so much, we reached out to stylist Jackie Hovorka @fullmetaljaxon, a studio owner in Sioux Falls, S.D., to get the lowdown.
"My client usually comes in wanting some pastel tones mixed with silvers, as it fades out nicely," Jackie shares. "So we just experimented, but we wanted something with purple."
Her tip? "Instead of using Kenra Professional Color Booster in Violet, I found that using the Red and Blue Booster mixed creates a deeper purple than the Violet Booster. Because the blue is more of a deeper, navy blue, I still wanted it to be smoky, and we achieved that by using Kenra 7VM to give the muted, gray undertones." Here's the how-to!
Want to be featured? Check out BTC's Instagram
and tag your pics to #behindthechair!
Price: $200 plus tax
COLOR FORMULAS
Starting Level:

The client was previously prelightened and returned with 1 ½-inch new growth and a panel faded to a Level 4. Her natural hair is a Level 6.

Formula A:

Keune Magic Blonde + 25-volume developer

Formula B:

1 oz. Kenra 4A + 9-volume developer

Formula C:

2 oz. Kenra 7VM + 1 dot Red Booster + 2 dots Blue Booster + 9-volume developer

Formula D:

1 oz. Kenra 8VM + Kenra 1 oz. 10SM + 9-volume developer
FORMULA STEPS
1. Prelighten roots with Formula A and process for 40 minutes under a plastic cap without heat until the hair achieves a Level 10.
2. Wash the hair with Matrix Total Results Moisture Me Rich Shampoo and Conditioner. Blow-dry.
3. Section hair down from the occipital to the nape and apply Formula B in a panel to new growth. Place foils over the panel to protect from color bleeding.
4. Apply Formula C to the base and feather using a balayage "V" technique.
5. Apply Formula D to midshafts and ends while melting and smudging with Formula C. Process for 30 minutes.
6. Rinse with cool water. Wash the hair with Matrix Total Results So Silver Shampoo and condition with Moisture Me Rich Conditioner.
7. Cut hair, then dry and style. Jackie said she curls the hair because it shows the depth of shadow root colors the best and gives the style more dimension.