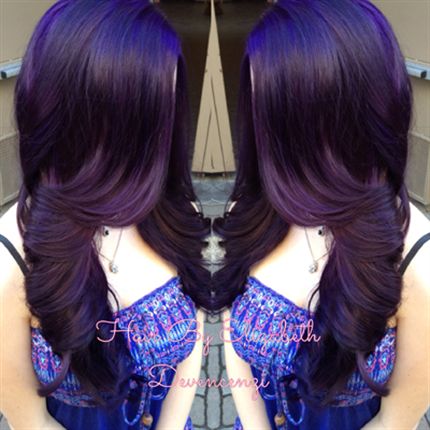 Natural Level:

4

Formula A:

1 ounce Paul Mitchell Shampoo + 1 ounce Paul Mitchell Dual Purpose Lightener from + 1 ounce 20-volume cream developer

Formula B:

Pravana VIVIDS Violet and ¼ Pravana VIVIDS Blue

Formula C:

Pravana VIVIDS Violet
Who Did It
Colorist:
Elizabeth Devencenzi
COLOR FORMULAS
Natural Level:

4

Formula A:

1 ounce Paul Mitchell Shampoo + 1 ounce Paul Mitchell Dual Purpose Lightener from + 1 ounce 20-volume cream developer

Formula B:

Pravana VIVIDS Violet and ¼ Pravana VIVIDS Blue

Formula C:

Pravana VIVIDS Violet
FORMULA STEPS
1. Pre-lift the hair to a level 7 using Formula A. Shampoo with L'ANZA Chelating Shampoo to remove any hard water build up and harsh chemicals on the hair while strengthening it.
2. Apply Formula B to the root of the hair and comb through to the mid shaft. This process creates the cascading effect of bright vivid purple to dark purple.
3. Apply Formula C from the midshaft to ends.
4. Process for 25 minutes.
Conditioning Treatment

Follow the color service with a L'ANZA Ultimate Treatment. Get healthy, strong and long-lasting color in just three easy steps.
1. Shampoo with Chelating shampoo (sulfate-free, so it doesn't remove any color).
2. Apply Deep Treatment conditioner with 2 pumps of Strength Power Boosterand 2 pumps of Moisture Power Booster. Allow the conditioner to process on the hair for 5 to 10 minutes, then rinse.
3. Towel-dry the hair and spray in Power Protector (this locks in nutrients, rebalances pH level and protects from damaging elements, including heat, chemical, friction and pollution).
Pro Tips from Liz
To finish the look, always layer the hair to give it more movement and body. Liz tells clients that color and cut go hand in hand, and they should always complement each other.


For long-lasting hold for this style, one of her go-to products is Kenra Platinum Hot Spray!