Last updated: November 27, 2018
Commitment-Free Rose Gold
By

Gina Bianca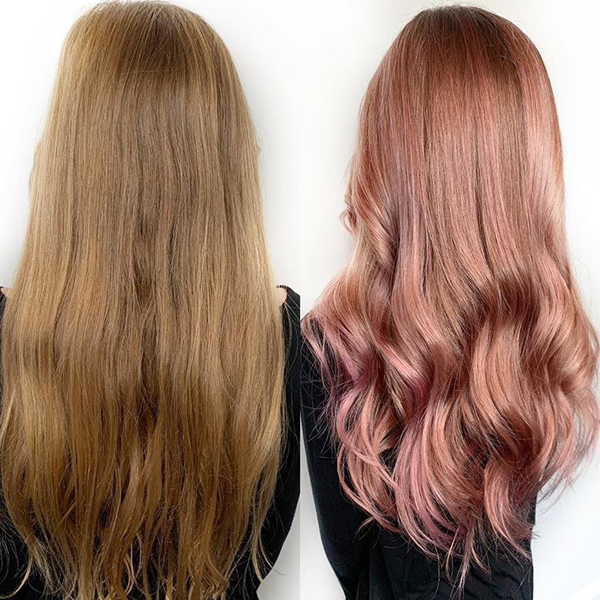 Formula A:

Watercolors Intense Shampoo Blue

Formula B:

Watercolors Intense Shampoo Pink
Your client is living for the pink hair trend, but is hesitant when it comes to long-term fashion color. Meet her in the middle by showing her this commitment-free rose gold haircolor from BTC Team Member Gina Bianca (@the_hair_doctor)! The secret to achieving this dreamy, yet temporary, hue? Tressa Watercolors Intense Shampoo! Watch how it's done below, then keep reading for the steps.
Pricing: "I recommend charging for your time, so however long it takes you multiply by 1.3 for every minute—that's a 30 percent profit per minute," advises Gina. "I also like to compare this to similar services, like a glaze, gloss or toner."
Watch The Video How-To Below
 

 

View this post on Instagram

 
COLOR FORMULAS
Formula A:

Watercolors Intense Shampoo Blue

Formula B:

Watercolors Intense Shampoo Pink
FORMULA STEPS
1. This client had lots of brass and yellow tones in her hair, so Gina started by shampooing with Formula A to neutralize some of the warmth. Let sit for about two minutes before rinsing.
2. Then, do two rounds of shampoo with Formula B and let each one sit for about two minutes before rinsing. "I like to apply a generous amount of Watercolors Intense Shampoo and believe the power is in the applications, not how long it sits for," shares Gina.
3. Rinse and condition, then prep with Biolage Bodifying Jelly to give fine hair body and hold and Biolage Three Butter Control Cream to keep strands healthy and smooth. 
4. Style as desired.