Last updated: November 07, 2017
Paul Mitchell Students Find Inspiration at #Caper15!

What do you get when you take the best educators and leaders in the world of Paul Mitchell, the best inspirational speakers from across the country and 2,500 eager Future Professionals? The biggest and best educational extravaganza, better known as #Caper15! Held at Caesars Palace, these stylists-in-training poured in from 111 Paul Mitchell Schools from all over to get their color, cut and style fix, as well as business tips a during this three-day event. Above all, these Future Professionals were here to be inspired—and they weren't disappointed. This educational event is just the beginning to these incredible hairdressers' future in the industry, and BTC was there for it all—the incredible hair moments, the screams of excitement and the tears brought on by some of the most incredible motivational speakers.
"Caper is not just another hair show, they're going to get hair, they're going to get skin and makeup here, but you still have the lineup of motivation—Lizzie Velasquez, Marie Osmond, Kathy Buckley—we've had the best of the best and I want to make sure these stylists are connected to mentors, not just for career building, but for life-building as well," notes Wynn Claybaugh, Dean of Paul Mitchell Schools.
Caper kicked off with a warm welcome from Paul Mitchell Co-Founder and CEO John Paul DeJoria, Co-owner Angus Mitchell, Global Artistic Director, Roberts Cromeans and Paul Mitchell Schools Dean, Winn Claybaugh. The one-hour stage presentation was broken into two segments: the Future Professionals Design Team, led by Advanced Academy members Mike Helm, Audra Turner, Kate Russell, Nikki Ramos, Fernie Andoing and Brandon Palmore, and the Paul Mitchell Artists and Educators Team, consisting of Robert Cromeans, Takashi Kitamura, Angus Mitchell, Stephanie Kocielski, Lucie Doughty, Diana Schmidtke, Charles Markus, Jason Reyes and many more. Together, both groups showcased exciting presentations in cutting, styling, haircolor, makeup, editorial and barbering.
Following the opening presentation, students rotated between cutting, color, style and look and learn classes, equipped with mannequins to follow along. Day one ended with the infamous White Party, where students enjoyed photo ops with the entire Paul Mitchell educators crew—oh, and plenty of dancing!
The last day featured heart-warming and inspirational presentations from the best motivational speakers around including: Geno Stampora, Alvin Law, Lizzie Velasquez, Kathy Buckley and a special appearance from Marie Osmond. Here are a few of the highlights from the day!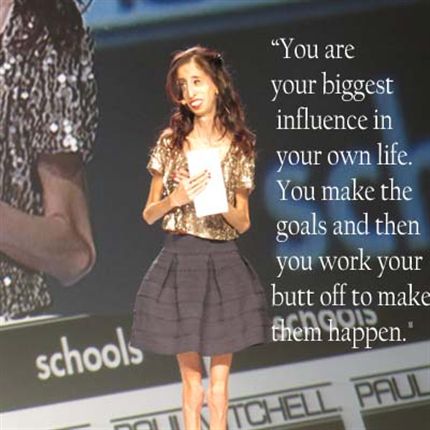 Loveable Lizzie
Lizzie Velasquez was born with a rare medical condition that prevents her from gaining weight or creating muscle. In fact, she has never weighed above 62 pounds in her 25 years of life. After she discovered an internet video naming her "The World's Ugliest Women" she set out to discover what truly makes people beautiful. What she discovered? That no matter what people say, you need to forgive them and love yourself. "People who bully have something going on in their own life and to make themselves feel better, they have to hurt someone else," notes Lizzie. One of her favorite quotes states "The world is changed by your example, not your opinion." So Lizzie chose to share her story and realized that people from all walks of life could relate to her in some way. Like hairdressers, her goal in life is to help people and make them see the beauty within themselves. "You are your biggest influence in your own life. You make the goals and then you work your butt off to make them happen." As Lizzie concluded, she may be small, but she has a lot of fight in her. "Once you realize your dream, fight like hell to achieve it, because you only get one life, and it's important to live it to the fullest and to make it count," she says.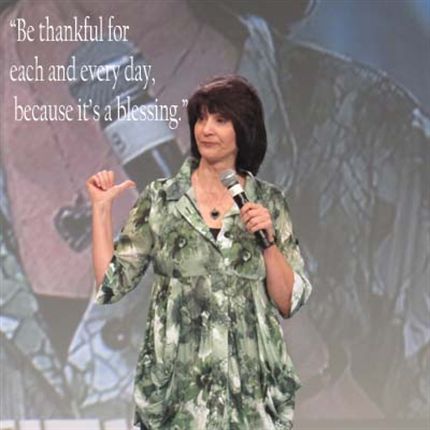 Kathy Brings the House to Tears
Gifted comedienne and renowned inspirational speaker, Katy Buckley, returned for the fourth year in a row, combining comedy with her own personal struggles and experience. Known as America's first hearing-impaired comedienne, Kathy shared personal stories with the students and her message of treating everyone with respect. Of her most powerful stories was when she met a quadriplegic. "After taking one look at her, I had her pegged for death," says Kathy. "But after taking a closer look and realizing she could laugh and blink, I realized there are no limits to what we do in life." Above all, she gave each and every person in the audience a very special gift—the gift of choice. The choice to love yourself unconditionally and to forgive yourself. "When was the last time you thanked God for your heart? Or for every breath you take? Be thankful for each and every day, because it's a blessing." And thanks to the Paul Mitchell Learning Leaders, these Future Professionals are in good hands.