Last updated: October 23, 2017
One Certification For You, Four Results For Your Clients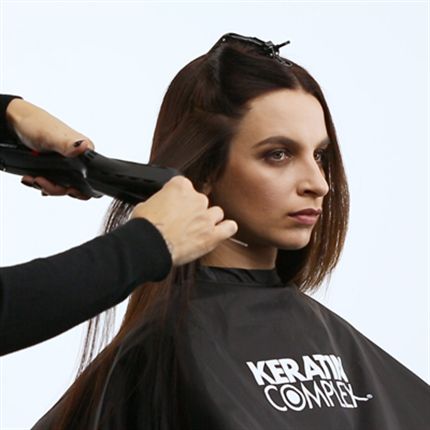 Psst…here's some news. There's a new customized blowout treatment in town with no down time, makes you more money and offers four different results depending on what your client desires. And you can get exclusively certified through BTC University in about 10 minutes. Interested? We thought so.
The New Personalized Blow Out™ Same Day Treatment
Keratin Complex is officially launching their first customizable, same day Keratin treatment, and we hear it's going to be pretty cool for you and your clients. With their "Your hair. Your way." mentality, the four new treatments, including Maximum Straightness, Ultimate Smoothness, Frizz Control and Natural Curl Finish, allow your clients to embrace straight, curly or wavy hair.
And on top of you being able to give your clients what they really want, you'll be able to perform this treatment quickly (like in one appointment!) and increase your income at the same time (we break it all down below, so keep reading!). Oh, and did we mention it's super easy to get certified in? It takes less than 10 minutes, and you can complete the process right here.
The Four Different Results
Take a look at the before-and-after shots for each treatment to see the results for yourself. Plus, click on the photos to complete your certification and add this treatment into your services.
For Maximum Straightness


Before, air-dried and curled.
For Ultimate Smoothness


Before and after.
For Frizz Control


Before and after.
For a Natural Curl Finish


Before and after.
The Moneymaking Aspect
The best part about adding this new service to your salon menu is that you could start making major dollars from the treatment. If you buy a 33.8 oz. bottle (equivalent to 20 applications) and charge $300 per service (an average price Keratin Complex recommends), you could increase your income by $6,000. (20 applications per bottle x $300 per service = $6,000)
Watch the video, take the quiz and get certified!
You'll be automatically entered for a chance to win the
New Personalized Blow Out™ Same Day Treatment,
clarifying masque and retail masque (Total value over $500.)
The Client Benefits
Now that you've seen the treatment results and all the money you could make from adding this into your repertoire, here are a few more details to get your clients on board with this service. The same-day Keratin treatment is:
Customized to straighten or smooth, reduce frizz and define/enhance existing curls.

Designed to p

reserve strength of the hair fiber, increase manageability for your client, retain moisture and deliver shine.

Developed by innovators in the industry.

Made easy for clients—there is an at-home regimen and results can last up to three months.

Powered by K-Pure Juice™, a proprietary juice blend of keratin, botanicals and amino acids.
The Certification Process
We're making this part super easy and super quick—getting certified will take less than 10 minutes, and we have the video you need to watch right here to complete your training. So watch it now, print your certificate at home and start making more money behind the chair!