Last updated: March 19, 2018
How-To: Steel Shadow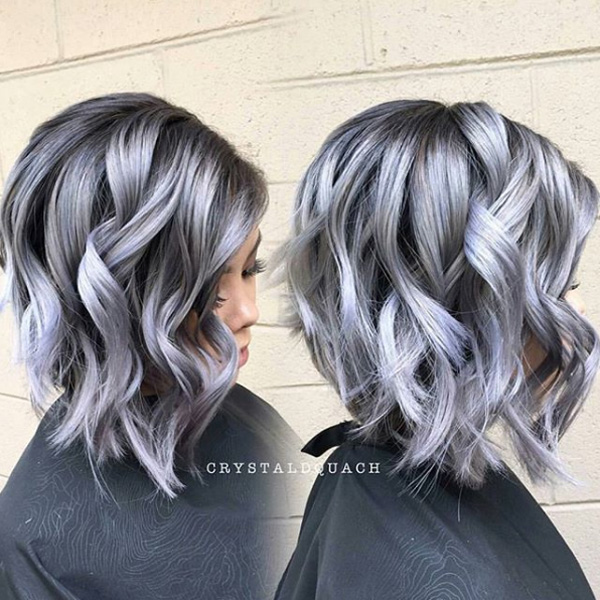 Stuck in a creative rut? Here's the perfect cut and color to get you out! When Crystal Quach's (@crystaldquach) long-time client came to her at Essence By The Bay Salon in San Diego, Calif. requesting a more low-maintenance look for the summer months, Crystal got to work creating this metallic silver and lavender blend—complete with a cute, layered A-line bob. But that doesn't mean this color is designated for the summer only. This metallic lavender color is a perfect way to brighten things up during the dreary winter. Here's her formula!
Natural/Starting Level: Level 1 dark brown
Color Formulas
Formula A (lightener): Redken Flash Lift Lightening Powder + 50-volume developer + Olaplex No.1
Formula B (toner): 3 parts Redken Shades EQ 6T + 1 part 7V + Shades EQ Processing Solution
Application
1. Heavily babylight regrowth using Formula A. Process under high heat for 30 minutes, or until a Level 8/9 is achieved.
2. Rinse, cleanse using ENJOY Sulfate Free Shampoo and blot dry.
3. Tone using Formula B. Process for 15 minutes.
4. Rinse, cleanse with ENJOY Sulfate Free Shampoo and condition with ENJOY Hydrating Conditioner to seal in keratin, amino acids and proteins.
5. Crystal completed the look with an A-line bob with plenty of layers. She then created beachy waves with a 1½-inch curling iron. 
Pricing: Crystal charges anywhere from $155 to $200 for babylights, plus $45 for a haircut.
Want to add more metallic formulas to your arsenal? Here are eight metallic formulas that slay!