Last updated: June 13, 2018
3 Mistakes When Creating A Low Ponytail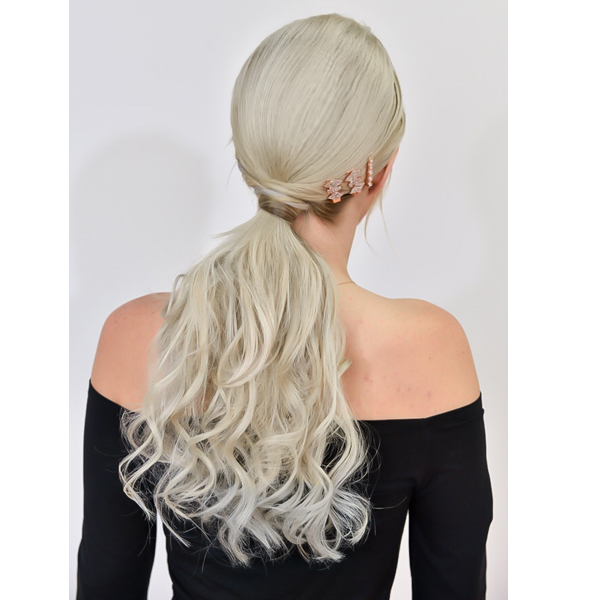 3 Mistakes To Avoid When Styling A Low Ponytail
Ponytails can be worn high or low, wavy or straight, sleek or textured, but with all that versatility comes more room for styling errors—that's why we're breaking down what not to do below! We caught up with Farouk Systems Inc. Global Board Artist Anna Cantu during a Miss USA and Miss Universe photo shoot, and not only did she show us how to create a low, pretty pony, but she also shared three mistakes you want to avoid while styling it.
Watch The Video How-To
Don't overthink it!
We've said it before and we'll say it again—ponytails are never a simple style to create, but that doesn't mean you need to overthink the process. Here's what Anna suggests when creating a perfect ponytail for any occasion:

Set yourself up for success with products and tools—minimize what you're using and make sure everything being used has a purpose.
Prep and treat the hair at the same time—Anna uses the CHI Silk Infusion from the midlengths to the ends to prep and nourish strands before styling. (This product is especially good for dried-out blondes, and it always adds a silky, shiny finish!)
Don't make securing the ponytail harder than it needs to be—Anna uses a rubber band with two bobby pins to lock the pony in place. It's quick, easy and doesn't require an assistant! Watch at 6 minutes in!
Curl the hair after securing the ponytail—adding waves after (instead of before) the pony is placed allows you to be more direct with your section sizes and the placement of each curl. Anna likes to use the CHI LAVA Pro Spin N Curl Iron to create fast waves with minimal effort. Check it out 10 minutes into the video!
Don't wait till the end of the style to tame those flyaways!
It's common for stylists to wait until the end of their upstyle to really focus in on taming flyaways—this is a big no-no because it's harder to smooth out a set and finished style.
Instead, deal with flyaways immediately. Anna likes to use the CHI Magnified Volume Spray in a circular motion and her hand or a small brush to flatten the hair with the product. The circle motion of the spray penetrates the cuticle, allowing it to lay softer on the head and create a shinier finish.
Don't overlook the placement of the pony!
The placement of the pony changes the entire look. So remember—if a client asked for a low 'do, you gotta keep it low, and low ponytails require limiting the elevation when securing the style in place.
To maintain that low elevation, gather the hair softly in your hand, then rest your hand on the client's neck—this ensures you don't lift the ponytail up higher than your client wants it.
Check out 5 minutes into the video to see what Anna suggests!