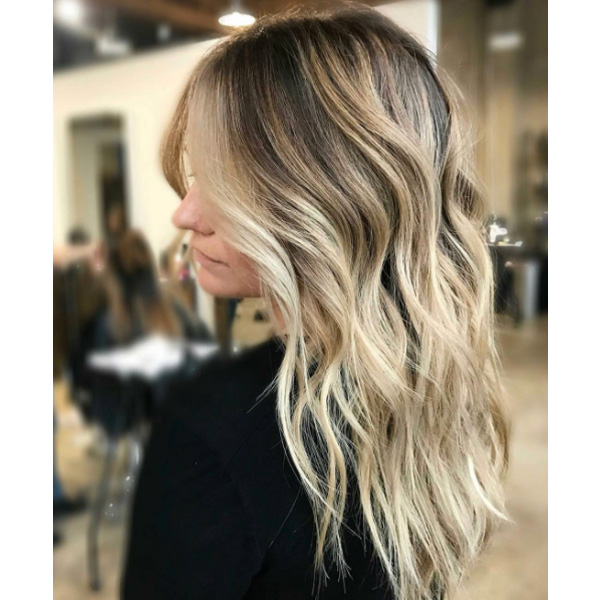 Formula A
Wella Professionals BLONDOR Lightener + 20-volume developer
Formula B
Wella BLONDOR Lightener + 30-volume developer
Formula C
Redken Shades EQ 4N + 6T
Formula D
Redken Shades EQ 9P + 9V
Balayage and babylights are a match made in hair heaven. Add an on-trend shadow root into the mix and you've got contoured perfection. But beautifully blending all three isn't easy. One stylist who mastered the art of balayage and babylights? Jenn Malone(@jmalonehair) from Agencé Salon in San Dimas, Calif. Find out how she achieved this stunning blend using the trendiest of techniques!
COLOR FORMULAS
Formula A
Wella Professionals BLONDOR Lightener + 20-volume developer
Formula B
Wella BLONDOR Lightener + 30-volume developer
Formula C
Redken Shades EQ 4N + 6T
Formula D
Redken Shades EQ 9P + 9V
HOW-TO STEPS
1
Create micro babylights throughout the entire head using Formula A to establish a lighter base. Place the hair in foils.
2
Paint Formula B on the hair left out of the foils using an open-air balayage technique. Process for 45 minutes.
3
Shampoo the hair using Oribe Signature Shampoo. Do not use conditioner. Towel-dry to prep the hair for the shadow root.
4
Starting at the back and working your way up, apply Formula C from the scalp to about 2½ inches down, smudging the root as you go along. Work your way to the front, leaving the face-framing money pieces out until the very end.
5
Rinse out Formula C, then apply Formula D all over the hair. Process for 8 to 10 minutes. Condition with Oribe Singature Conditioner.
6
Prep the hair with Oribe Super Shine Mositurizing Cream, blow-dry and style with loose waves. Finish with Oribe Dry Texturizing Spray.

Formula A
Wella Professionals BLONDOR Lightener + 20-volume developer
Formula B
Wella BLONDOR Lightener + 30-volume developer
Formula C
Redken Shades EQ 4N + 6T
Formula D
Redken Shades EQ 9P + 9V

Formula A
Wella Professionals BLONDOR Lightener + 20-volume developer
Formula B
Wella BLONDOR Lightener + 30-volume developer
Formula C
Redken Shades EQ 4N + 6T
Formula D
Redken Shades EQ 9P + 9V
8
Finished Look—alternate view

Formula A
Wella Professionals BLONDOR Lightener + 20-volume developer
Formula B
Wella BLONDOR Lightener + 30-volume developer
Formula C
Redken Shades EQ 4N + 6T
Formula D
Redken Shades EQ 9P + 9V
9
Finished Look—alternate view