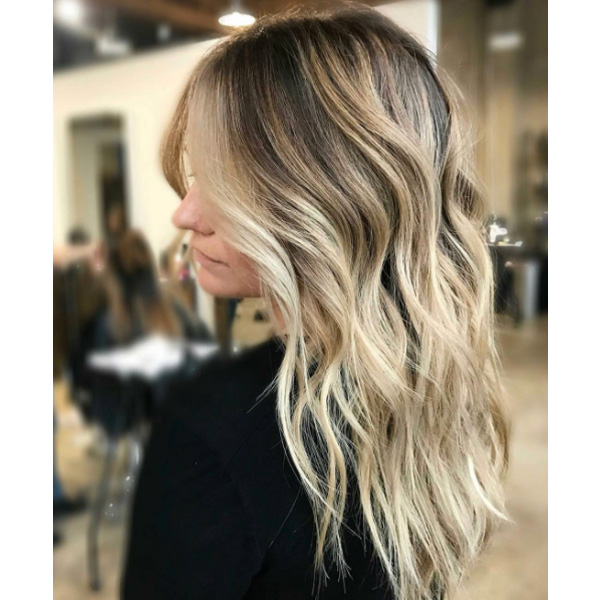 Formula A:

Wella Professionals BLONDOR Lightener + 20-volume developer

Formula B:

BLONDOR Lightener + 30-volume developer

Formula C:

Redken Shades EQ 4N + 6T + Shades EQ Processing Solution

Formula D

Redken Shades EQ 9P + 9V + Shades EQ Processing Solution
Balayage and babylights are a match made in hair heaven. Add an on-trend shadow root into the mix and you've got perfectly contoured dimension. But beautifully blending all three techniques on one head isn't easy. One stylist who mastered the art of painting both balayage and babylights is BTC Team Member Jenn Malone (@jmalonehair)! Find out how she achieved this stunning blend by checking out the formulas and how-to steps below!
COLOR FORMULAS
Formula A:

Wella Professionals BLONDOR Lightener + 20-volume developer

Formula B:

BLONDOR Lightener + 30-volume developer

Formula C:

Redken Shades EQ 4N + 6T + Shades EQ Processing Solution

Formula D

Redken Shades EQ 9P + 9V + Shades EQ Processing Solution
Products Used
HOW-TO STEPS
1

Paint micro babylights throughout the entire head using Formula A to establish a lighter base and place the hair in foils.

3

Shampoo the hair using Oribe Signature Shampoo, but do not use conditioner. Towel-dry to prep the hair for the shadow root.

4

Starting at the back and working your way up, apply Formula C from the scalp to about 2½ inches down, smudging the root as you go along. Work your way to the front, leaving the face-framing money pieces out until the very end.

5

Rinse, then apply Formula D all over the hair. Process for 8 to 10 minutes, then condition with Oribe Singature Conditioner.

6

Prep the hair with Oribe Super Shine Moisturizing Cream, blow-dry and style with loose waves. Finish with Oribe Dry Texturizing Spray.

Formula A:

Wella Professionals BLONDOR Lightener + 20-volume developer

Formula B:

BLONDOR Lightener + 30-volume developer

Formula C:

Redken Shades EQ 4N + 6T + Shades EQ Processing Solution

Formula D

Redken Shades EQ 9P + 9V + Shades EQ Processing Solution

7

Finished Look—alternate view

Formula A:

Wella Professionals BLONDOR Lightener + 20-volume developer

Formula B:

BLONDOR Lightener + 30-volume developer

Formula C:

Redken Shades EQ 4N + 6T + Shades EQ Processing Solution

Formula D

Redken Shades EQ 9P + 9V + Shades EQ Processing Solution

8

Finished Look—alternate view

Looking to improve your balayage and babylights technique? View these most visited how-to articles: