Last updated: February 20, 2023
Your Complete Guide To Color Blocking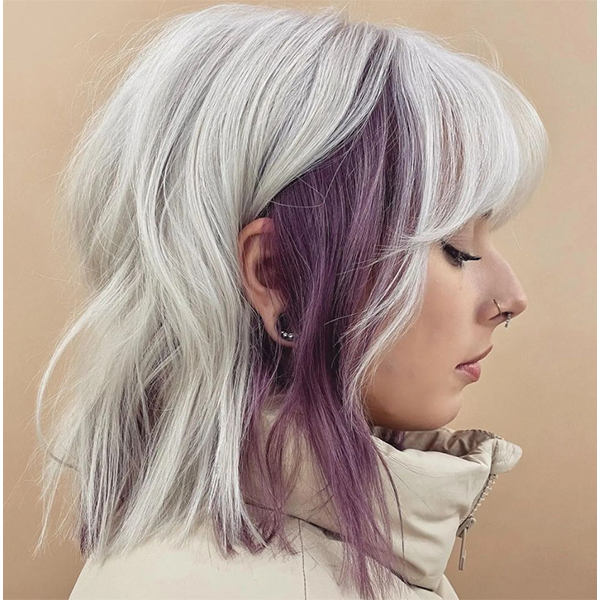 6 Color Blocking Looks Your Clients Will Be Asking For
Why choose one color when you could have two or three? That's the mindset clients are bringing into the salon—and with plenty of multi-tonal inspo pics. The culprit: Color blocking—a viral trend transforming clients' go-to dye jobs with head-turning split dyes, bold placement, peekaboo colors and more.
Already seeing an influx of colorful requests? Here are six color blocking combinations from natural and diffused to bold (and some expert advice on how to make them perfect every time!)
1. Bold, bolder, boldest
When it comes to making head-turning results, the only limit is your creativity. For placement, color and sectioning, anything goes.
"There is no right or wrong way to color block as far as placement goes," says vivid hair specialist Hannah Menor (@hannahdisconnected). "[Don't] be afraid to break the boundaries of color theory and use different color schemes that you wouldn't think go together. Sometimes those make for the best outcomes and the coolest contrasts!"
Pro tip: "A client willing to come in every four to eight weeks is a candidate for a 'front and center' type of block," Atlanta-based stylist Paige McNeil (@pinkdagger) explains. "For everyone willing to come in eight weeks plus, 'hidden color blocks' work best."
Check out Hannah's stacked green shades:
Paige's gorgeous 'galaxy'-themed result checks all of our color block boxes:
We're loving this tri-color "neon watermelon" look by #ONESHOT Finalist & PRAVANA Brand Ambassador Alejandro Lopez (@artistic.aestheticss):
Try out this electric bubblegum look for Kailee Morgue by Jessica Ruby (@flamingoloungehair) using Pulp Riot & OLAPLEX:
2. Diffused with natural placement
Color blocking is making a comeback with a fresh, modern twist: Diffusion. This technique applies the same bold colors and style as its counterparts, but with natural placement.
Transformative colorist Andy Judd (@andy_doesyourhair) uses diffusion and placement to modernize their client's color block. "[For] diffused color blocking, what I personally call 'fluid block coloring,' I take variations of fine slicing/weaving sections of unlifted hair out to diffuse the color block," they share. "[It's all about] creating a soft but impactful color placement."
Pro tip: Cassie Siskovic (@cassiskovic) likes to use her diffusion techniques to upsell her placement design. "I love using color blocking with coppers and reds to create built-in dimension. While the tones may not create high contrast, the blocks of color create bold movement that makes the red look super expensive," she says.
Peep the results of Andy's natural placement technique:
Cassie's ultra-modern, diffused color block:
Vivids expert Krysta Alyse (@krystaalyse) created this high-contrast using K18 Hair and DROP DEAD® Hair Extensions:
Get inspired by stylist Christian Domingos (@christiandomingos)'s face-framing diffusion created with Redken:
Celeb hairdresser Rena Calhoun (@rena.calhoun)'s classic, high-contrast look for "Reservation Dogs" actor K. Devery Jacobs:
Click here to give your curly clients some serious inspo with this beautiful color by 2022 #ONESHOT Natural Texture Winner Sahrita Silva (@sahrita23). Formulas with Redken, Schwarzkopf Professional® and L'Oréal Professionnel included!
3. Classic split dye
Clients have entire Pinterest boards dedicated to these y2k-worthy looks. Here are a few of the split dye pics they'll be taking to their next appointment, plus some toning tips on how to make their vibrant, two-tone color last!
Hannah makes sure to strategically time her lightener and toner applications for a quicker, easier color blocking service with zero bleeding. "Working with creative color blocking, I do the blocking all at once and rinse the colors all at once," she explains. "If darker tones are used with lighter pastel tones, I always rinse the darker first with cold water to ensure no bleeding onto the pastel tones."
Pro tip: For tone maintenance, Andy encourages diffused clients to use direct dye pigments at home so the color feels fresh and new until a new placement is applied. For clients who have bolder block color to the root, Andy recommends booking them for a touch-up every four to six weeks.
Click here to get the insider deets, tips and techniques for PRAVANA Senior Artistic Educator Becky Betts (@the_blonding_rebel)'s Halloween-inspired split dye formula:
Loving this vanilla-red velvet split dye by extensions specialist Patrick Garcia (@isthatpat) using Schwarzkopf Professional®, Oligo Professionnel and OLAPLEX? Click here for the color formulas and a step-by-step tutorial for recreating this look at your salon!
4. '90s-style money piece
'90s-inspired color placements lit up our feeds this spring and summer and it looks like they are here to stay—especially for clients who want a small, but powerful change. 
"For my more natural clients, I get a ton of '90s-style money piece [requests]. It's a great way for blondes to stay blonde and bold in the front but embrace more of their natural everywhere else," Hannah says.
Pro tip: Cassie's advice: "I always like to emphasize to clients that the point of inspiration pictures is to get us both aligned on what your taste is, then to create something perfectly custom fit for them." Take your clients' inspo pics and tailor them uniquely to their individual hair type, cut, texture and curl pattern. They'll thank you later!
Flip the script with this reverse money piece formula and technique by L.A.-based hairstylist Meg Schipani (@shmeggsandbaconn) using TIGI® Professional:
This beige '90s money piece was popping off on Instagram. Click here to learn artist Brit Wright (@brit_bellasalonandboutique)'s formulas and techniques!
5. Peekaboo color
As one of 2022 #ONESHOT Winner and vivid color specialist Gerilyn Ghaisarzadeh (@gerilynghaisarzadeh)'s most requested color block styles, hidden color blocks are another creative option for clients who want the best of both worlds. Whether they want to hide their new color or flaunt it, it's all in the placement.
"Hidden blocks do not show the start of the block or roots, [but they] can still make a big punch!" Paige agrees. "Placement [ideas include] the temple or the under layer that will show when the hair is pulled forward."
Peekaboo colors are also a good option for clients who prefer lower maintenance looks. Hannah's advice: "Clients who do more of a hidden block technique can push their next appointment at least 10 to 12 weeks, [but] I suggest maybe they just come in for a maintenance appointment for a toner or creative color refresh in about six weeks."
Pro tip: Gerilyn protects the hair during color blocking by applying L'Oréal Professionnel Metal Detox to free the hair of all minerals and build-up, followed by K18 Hair treatments for additional protection. 
The internet adored Dua Lipa's two-toned transformation that placed rich brunette tones under a warm blonde. Click here to see how you can recreate Virtue® Brand Ambassador Nicola Clarke (@nicolaclarkecolour)'s formula.
6. Dip dye
Whether dip dye is combined with other creative color or is used to elevate a natural shade, it can be as subtle or bold as your clients desire. Andy's clients in particular have been raving about another fantastic capability of dip-dyed looks: Face-framing.
"What is typically requested is color around the face either isolated or continued through the ends—sometimes in patterns," Andy explains. "A combination of the dip dye, early 2000's striped highlights, scene kid hair patterns and anime-inspired placement seems to be the most desired."
"Asymmetrical block color and face frame block color are by far my two most popular requests when it comes to these high-contrast end results," Cassie agrees. "I definitely think it's not for everyone, but for the clients who are looking for a boldly unique color design that fits their personality, I think this modern block color is a great option."
Pro tip: Want to show off your client's stunning new color? Try Paige's go-to products: amika velveteen dream smoothing balm for a soft, piecey finish and Kenra Professional Dry Volume Burst 3 spray. 
Paramore singer Hayley William's striking dip dye by personal colorist and BFF Brian O'Connor (@colormebrian):